Effective Security audits: recognize hackers and active threats in your IT-environment
Our speciale "Security Health Check Inspector" is a toolset that in real-time shows you what suspicious activities are currently taking place in your environment.
By focussing on Behaviour Analysis of files (via sandboxing, behaviour monitoring) and network/protocol usage, we can easily pinpoint to the source of a cyber-attack, map the impact of the threat. Using this info to provide an effective remediation.
We can detect for example: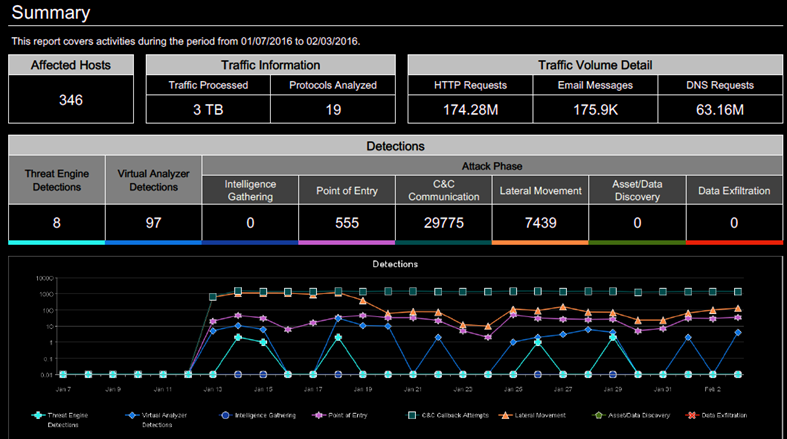 Which vulnerabilities/malwares and protocols are currently being active in your IT-environment. This for both managed as unmanaged devices included.
Botnet activities, C&C communications, malware infections in a early stage. (before anu harm is being made)
The source of Crypto-malwares, brute-force attacks, malware outbreaks or unknown threats like APTs
Perform sandbox analysis, determine the risk of suspicious files
Identify C&C IP's and URLs.
Detect any possible data exfiltration.
Map the different stages a certain attack has
…
Onze klanten (bedrijven, kmo's, ziekenhuizen, …) vragen ons om gedurende enkele dagen deze toolset bij hen te plaatsen om zo een momentopname te verkrijgen van hun huidige IT infrastructuur. In de meeste gevallen (meer dan 85%) worden er onregelmatigheden aangetroffen. Uiteraard hebben wij dan ook de juiste know-how om een degelijke en duurzame oplossing voor te stellen.
Our higly qualified Security Consultants and Ethical Hackers provide the necessary knowledge to help you improving and upgrading your IT Security environment in an efficient way.