[layerslider id="7″]
Phishing Campaigns
Iedereen kan het slachtoffer worden van "identity theft". De meeste mensen denken dat voornamelijk ouderen hiervoor vatbaar zijn. Echter onderzoek heeft aangetoond dat Techneuten 18 keer meer kans hebben om slachtoffer te zijn van phishing activiteiten.
Buiten het technische aspect voor het blokkeren van phishing mails, moeten ook gebruikers, de potentiële slachtoffers, getrained worden in het herkennen van phishing mail.
Wij kunnen, door gebruik te maken van onze phishing toolset, volgende zaken uitvoeren voor onze klanten: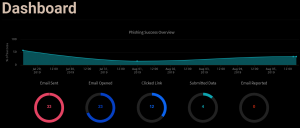 versturen van phishing mails zoals valse "linkedIn invites", "Netflix meldingen", "facebook", of corporate berichten, naar de interne medewerkers.
Traceren wie de mails ontvangt, opent, doorklikt, attachments opent of zelfs zijn credentials op een valse website ingeeft.
e-training of awareness automatisch aanleveren aan zij die het nodig hebben. (de medewerkers doe hun credentials hebben ingegeven)
Achteraf wordt steeds een duidelijk rapport aangeleverd met de resultaten of de progressie die gemaakt wordt onder de medewerkers.